Description
Authors Anissa and Michael B. Sutton, have joined hands to bring forth this English-French bilingual book "How to start a conversation in French – Comment engager une conversation en Francais "
Anissa, a multi-faceted creative and business woman who has previously collaborated on the start-up papers Delit Music Magazine in Paris and Pump it up Magazine in America. Anissa was born in Saint-Étienne and she studied literature and languages (Spanish, English, Latin, Italian and Russian) at University La Sorbonne in Paris. The experiences with magazines in US and France, thoroughly prepared her for the future ventures in the publishing world with her publishing company Editions L.A. with her American husband Michael B. Sutton, Together they create interactive illustrative books for children and books to learn french and english. When Anissa and Michael started this project of writing an french/english books and interactive children's books, was to create something for her nieces and nephews, and step children to learn and become familiarize with the language French/English in an easy and interesting way with the help of illustrations.
Anissa wants her dear husband Michael B. Sutton to learn French as well.
The couple wishes to leave something not only for their relatives but for anyone who wants to start learning French or English, in the form of audio-digital and print book. available at https://www.editions-la.com/category/books/.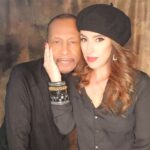 A veteran Motown producer,  Michael B. Sutton  has been an important hidden force in the music industry. Writing and producing countless songs for artists such as Stevie Wonder, Thelma Houston, and Smokey Robinson, Mike became known for his behind-the-scenes efforts more than anything else. Writing many theme songs as well, he branched into movies and even scored a few films before the late 90's. Since then, Mike has helped lots of artists on the way to stardom. Think of Mike as a guide for talent in the industry.